Cooking Dash: DinerTown Studios Mac Game
Download Cooking Dash: DinerTown Studios Mac Game or Macintosh Game. Play 1 hour free trial demo on Mac Operating System. Download Games for PC and Macintosh Games on Daily1Game. Mac games System requirements may differ for different game. Therefore, download Mac game demo on your own Macintosh Computer to test play. Since all the Macintosh Games available here have very low price and affordable cost, order your original full version mac game copy today. There are various payment methods available. You can purchase with Visa Card, Master Card, American Express Card, Discover Card And also Via PayPal. Many games have Unconditional 30 Day Money Back Guarantee! Also, Play Free Online Games On Daily1Game.
Trouble on the set! Flo's friend needs help feeding the cast and crew of her TV show. Prepare, cook, assemble and serve the delicious menu items from each TV-themed restaurant. Can you successfully feed the egos and stomachs of the cast and crew and keep them from walking off the set in Cooking Dash: DinerTown Studios?
The list given bellow is from Mac Action & Arcade Games category. You can read more about particular game by visiting it's page. Read Mac system requirements before installing game. Enjoy 60 minutes mac demo and buy full game. All Downloadable PC Games here are 80 minutes free trial demo versions. Order serial code of game for very low price. Discount are available on many Mac operating system games! Are you not interested in downloading mac game? then, Play Free Online Action & Arcade Games here. If you have any technical difficulties while playing games or any other game related issues, fell free to contact us.
Cooking Dash: DinerTown Studios Downloadable Game Features
Cook a variety of foods.
3D rendered characters.
Cook for the stars!
System Requirments for Playing this Game
Operating System : 10.4, 10.5 (recommended)
Processor : 1.83GHz
Ram (Memory): 512 MB
DirectX Version :
Hard Drive Space : 0 MB
This Game is also available for Windows Operating System!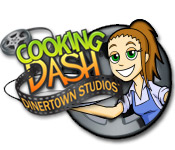 Get Downloadable Mac Demo Version.
Download Cooking Dash: DinerTown Studios Mac Game Free Trial!
SIZE: 26.78 MB
Quality tested and virus free.
Purchase Mac Game with Discount.
Buy Cooking Dash: DinerTown Studios Game at very cheap price.
PRICE: $6.99/$9.99 USD
Discount available on purchase.