The Seawise Chronicles: Untamed Legacy Mac Game
Download The Seawise Chronicles: Untamed Legacy Mac Game or Macintosh Game. Play 1 hour free trial demo on Mac Operating System. Download Games for PC and Macintosh Games on Daily1Game. Mac games System requirements may differ for different game. Therefore, download Mac game demo on your own Macintosh Computer to test play. Since all the Macintosh Games available here have very low price and affordable cost, order your original full version mac game copy today. There are various payment methods available. You can purchase with Visa Card, Master Card, American Express Card, Discover Card And also Via PayPal. Many games have Unconditional 30 Day Money Back Guarantee! Also, Play Free Online Games On Daily1Game.
Live through the adventures that Old Thomas Seawise had when he was younger. Help Thomas find clues in the odd world of Harmonia and find his missing grandmother. Jump into the excitement with Thomas and his travelling companion, Pan the goat man, in The Seawise Chronicles: Untamed Legacy. Use your Hidden Object skills to advance the storyline and relive Thomas's bizarre adventures.
The list given bellow is from Mac Puzzle Games category. You can read more about particular game by visiting it's page. Read Mac system requirements before installing game. Enjoy 60 minutes mac demo and buy full game. All Downloadable PC Games here are 80 minutes free trial demo versions. Order serial code of game for very low price. Discount are available on many Mac operating system games! Are you not interested in downloading mac game? then, Play Free Online Puzzle Games here. If you have any technical difficulties while playing games or any other game related issues, fell free to contact us.
The Seawise Chronicles: Untamed Legacy Downloadable Game Features
Intricate storyline
Challenging minigames
Travel to Harmonia!
Check out our Blog Walkthrough
System Requirments for Playing this Game
Operating System : 10.4
Processor : 1.0 GHz (INTEL ONLY)
Ram (Memory): 512 MB
DirectX Version :
Hard Drive Space : 196 MB
This Game is also available for Windows Operating System!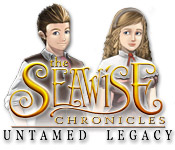 Get Downloadable Mac Demo Version.
Download The Seawise Chronicles: Untamed Legacy Mac Game Free Trial!
SIZE: 187.14 MB
Quality tested and virus free.
Purchase Mac Game with Discount.
Buy The Seawise Chronicles: Untamed Legacy Game at very cheap price.
PRICE: $6.99/$9.99 USD
Discount available on purchase.