Download Millennium 2: Take Me Higher Game
Download Millennium 2: Take Me Higher Game for PC. Free Trial Demo Games version to Play for 60 minutes period. Games on daily1game are really safe & secure to Play on Computer. Sometimes system requirements for the game may vary, therefore we recommend you to download & test the game demo on your own PC. Mac Games from various category are available for download. Since all the games here have too cheap and affordable prices, Buy your original full version copy today. There are various payment methods for purchase. You can purchase with Visa Card, Master Card, American Express Card, Discover Card And also Via PayPal. Many games have Unconditional 30 Day Money Back Guarantee! Also Play Free Online Games On Daily1Game.
Marine has set off on a crazy journey that could change the world of Myst forever! Find twelve warriors and defeat the heartless government of Mystrock! The people of Marine's world are weak and in despair, and even her own father is critically wounded. Fight troublesome creatures and legendary monsters, help people in town, visit secret rooms, collect orbs and complete many, many quests in Millennium 2 – Take me Higher.
Bellow is a list of games from similar category. You can choose your favorite title from Adventure Games for computer. Visit individual game page to read more detail about particular title. Read features and system requirements for game. Play one hour free demo, and buy full version game. Purchase serial key of the game at cheapest price. You can also give games as a gift. All Downloadable PC Games have 80 minutes free trial period. Discount available on many games! If you have technical difficulties while playing games or any game related issue or your good/bad feedback, then fell free to contact us.
Read Millennium 2: Take Me Higher Full Game Features.
Unique gameplay
Immersive world
Change Myst forever!
Check out our Blog Walkthrough
Play Millennium: A New Hope
System Requirements for Playing this Game.
Operating System : Windows XP/Vista
Processor : 800 Mhz
Ram (Memory): 256 MB
DirectX Version : 8.1
Hard Drive Space : 127 MB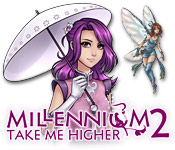 Get Downloadable Demo Version.
Download Millennium 2: Take Me Higher Free Trial for PC!
Size: 110.05 MB
Quality tested and virus free.
Purchase Game with Discount.
Buy Millennium 2: Take Me Higher Game at very cheap cost.
price: $6.99/$9.99 USD
Get Discounts on purchase.